GSCM Leadership Talk #6 – Leading through sustainability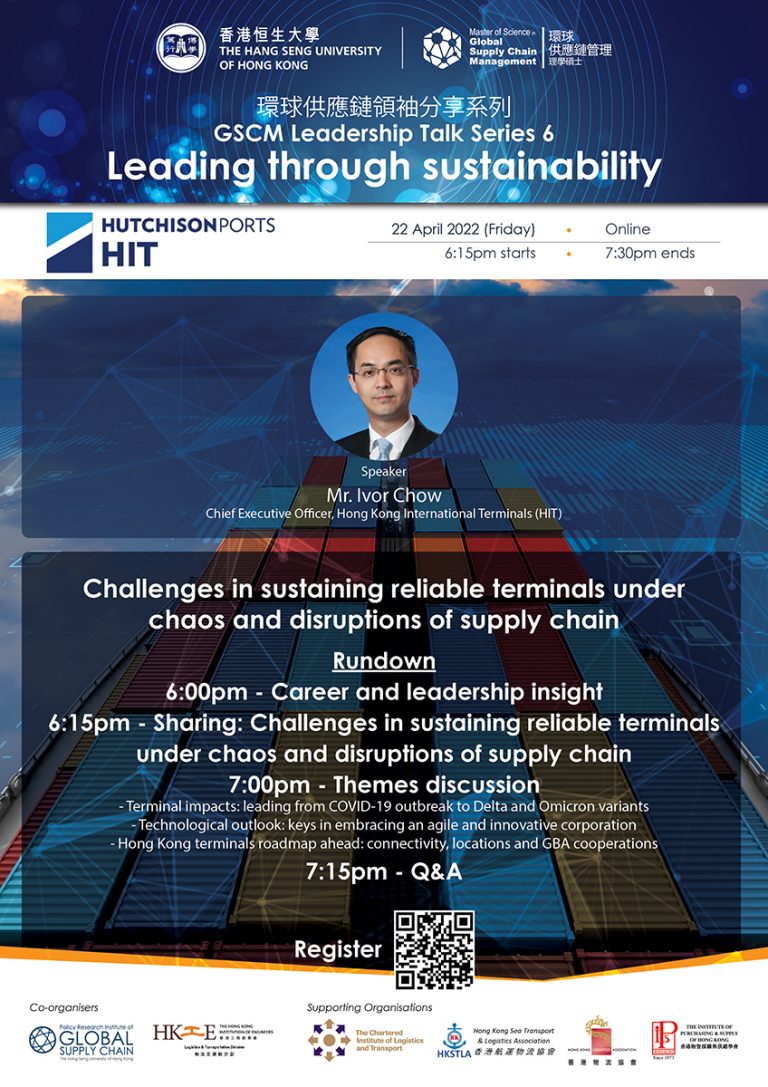 Challenges in sustaining reliable terminals under chaos and disruptions of supply chain
Date: 22 April 2022 (Friday)
Time: 6:15pm – 7:30pm
Venue: Online via Zoom
Speaker: Mr. Ivor Chow, Chief Executive Officer, Hong Kong International Terminals (HIT)
Themes:
– Terminal impacts: leading from COVID-19 outbreak to Delta and Omicron variants
– Technological outlook: keys in embracing an agile and innovative corporation
– Hong Kong terminals roadmap ahead: connectivity, locations and GBA cooperations
Organisers
MSc in Global Supply Chain Management Programme (MSC-GSCM), The Hang Seng University of Hong Kong

Co-organisers
Policy Research Institute of Global Supply Chain
Hong Kong Institute of Engineers – Logistics and Transportation Division
Supporting organisations
Hong Kong Sea Transport Logistics Association (HKSTLA), Hong Kong Logistics Association (HKLA), The Chartered Institute of Logistics and Transport in Hong Kong (CILTHK), The Institute of Purchasing & Supply of Hong Kong (IPSHK).
Please click HERE for registration (Free admission, and all are welcome!)
*Registration page will be closed when the event has reached its maximum number of participants
Should you have any inquiries, please contact us at gscm@hsu.edu.hk or Whatsapp at (852) 5168 6917.