GSCM Leadership Talk # 5 – Leading through resolution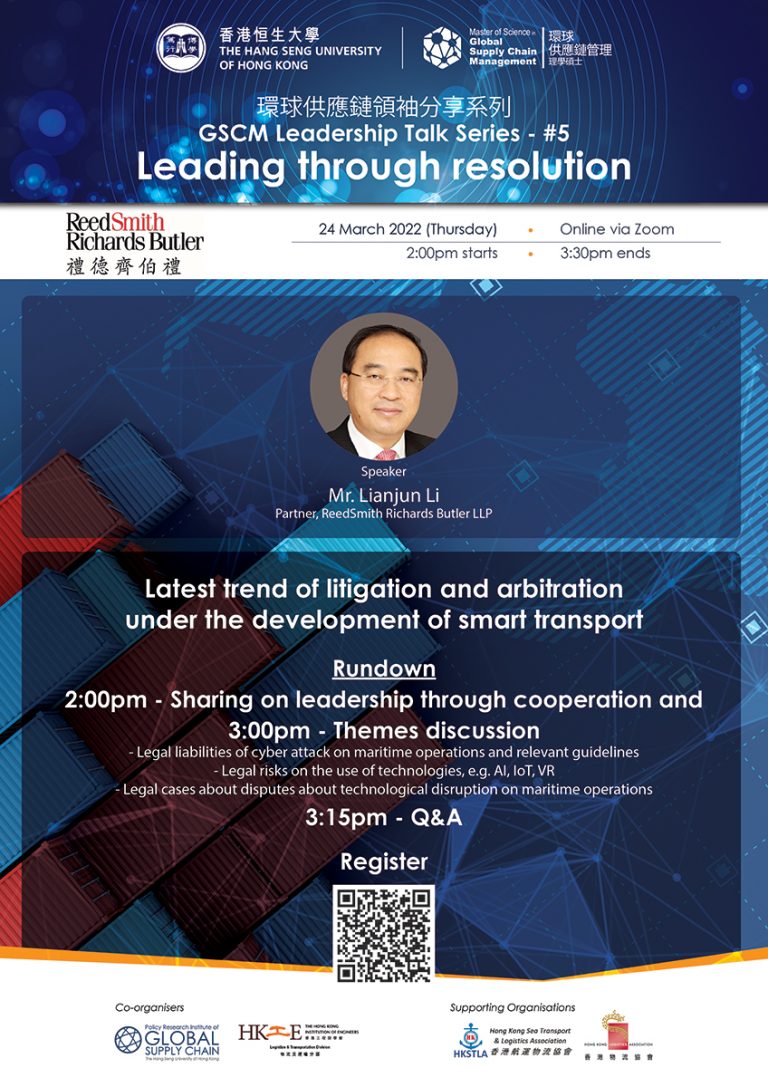 Latest trend of litigation and arbitration under the development of smart transport
Date: 24 March 2022 (Thursday)
Time: 2:00pm – 3:30pm
Venue: Online via Zoom
Speaker: Mr. Lianjun LI, Partner, ReedSmith Richards Butler LLP

Speaker's Bio:
Mr. Li is a senior partner of Reed Smith Richards Butler LLP and the head of the transportation and commercial litigation department. He qualified as a solicitor in Hong Kong, England and Wales. He has extensive experience in dealing with legal issues and disputes relating to international trade, commercial transactions, transportation, shipping, cross-border investments, shareholder agreement and bond issuance, litigation and arbitration. He is also an experienced international commercial and shipping arbitrator. He has been appointed by his clients or arbitration institutions as an arbitrator in the institutional arbitrations or ad hoc arbitrations. Lianjun has been a fellow of the Chartered Institute of Arbitrators in 2002. He is Panel Arbitrator of the Law Society of Hong Kong and in many well-known arbitration institutions. 
He is a visiting professor to Dalian Maritime University, Shanghai Maritime University and East China University of Political Science and Law. He is also a member of Hong Kong Maritime and Port Board appointed by the Hong Kong Government, LMAA Supporting Members Liaison Committee (Asia Pacific) of LMAA, the Transport and Logistics Committee of the Law Society of Hong Kong and the SCMA Procedure Committee. He has been publishing articles and professional books. His recent co-authored books include Maritime Law and Practice in China and Maritime Law and Practice in Hong Kong which were published by well-known legal publishers in England and Hong Kong. Lianjun has been recognized by Chambers, Legal 500, and Who's Who Legal as a leading individual in the shipping transportation industry for many years.
Themes:
– Legal liabilities of cyber attack on maritime operations and relevant guidelines
– Legal risks on the use of technologies, e.g. AI, IoT, VR
– Legal cases about disputes about technological disruption on maritime operations

Organizer:
MSc in Global Supply Chain Management Programme (MSC-GSCM), The Hang Seng University of Hong Kong

Co-organizer:
Policy Research Institute of Global Supply Chain (PRISC) and Hong Kong Institute of Engineers – Logistics and Transport Division (HKIE LTD)

Supporting Organizations:
Hong Kong Sea Transport Logistics Association (HKSTLA) and Hong Kong Logistics Association (HKLA)

Please click HERE for registration (Free admission, and all are welcome!)
*Registration page will be closed when the event has reached its maximum number of participants
Should you have any inquiries, please contact us at gscm@hsu.edu.hk or Whatsapp at (852) 5168 6917.