GSCM Leadership Talk #4 – Leading through cooperation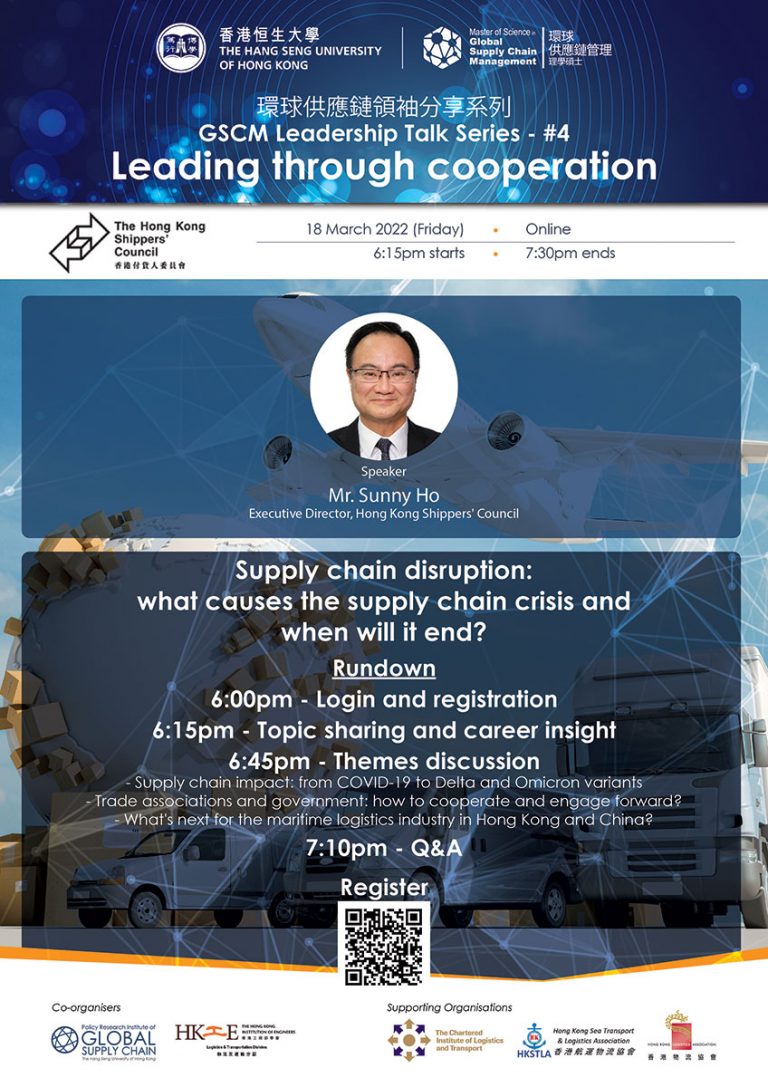 Supply chain disruption: What causes the supply chain crisis and When will it end?
Date: 18 March 2022 (Friday)
Time: 6:15pm – 7:30pm
Venue: Online via Zoom
Speaker: Mr. Sunny Ho, Executive Director, Hong Kong Shippers' Council
Speaker's Bio:
Mr HO Lap Kee, Sunny, MH, JP, is the Executive Director of the Hong Kong Shippers' Council. As he now shapes the thrust of the Shippers' Council mandate as the voice of the Hong Kong shippers, he has considerable experience in aspects of trade and transport of goods. Mr HO is a member of the Logistics Industry Training Advisory Committee, the Land and Development Advisory Committee, the Private Columbaria Appeal Board, two sub-committees of the Hong Kong Maritime & Port Board, Trade Single Window User Consultation Group of the Hong Kong SAR Government. He is the current Chairman of Hong Kong Logistics Management Staff Association, Fellow and Council Member of the Chartered Institute of Logistics & Transport (CILT) in Hong Kong, a member of the Transport & Shipping Committee of the Hong Kong General Chamber of Commerce, Logistics Services Advisory Committee of the Hong Kong Trade Development Council, the Shipping and Transport Committee of the Federation of Hong Kong Industries, and Advisor of the China Council for the Promotion of International Trade of International Trade Guangzhou Sub-Council.

Themes:
– Supply chain impact: from COVID 19 to Delta and Omicron variants
– Trade associations and government: how to cooperate and engage forward?
– What's next for the maritime logistics industry in Hong Kong and China?
Organizer: MSc in Global Supply Chain Management Programme (MSC-GSCM), The Hang Seng University of Hong Kong
Co-organizer: Policy Research Institute of Global Supply Chain (PRISC) and Hong Kong Institute of Engineers – Logistics and Transport Division (HKIE LTD)
Supporting Organizations: Hong Kong Sea Transport Logistics Association (HKSTLA), Hong Kong Logistics Association (HKLA) and The Chartered Institute of Logistics and Transport in Hong Kong (CILTHK)
Please click HERE for registration (Free admission, and all are welcome!)
*Registration page will be closed when the event has reached its maximum number of participants
Should you have any inquiries, please contact us at gscm@hsu.edu.hk or Whatsapp at (852) 5168 6917.